Stonecutters for more than sixty years, we have been offering original and timeless design and decoration solutions to lovers of beautiful materials. We assist each of our customers in the choice of the simplest and noblest materials, and in their perfect integration into their kitchen, bathroom or design project.
Marble, stone and granite are at the heart of Ateliers Sansone's business. Their teams travel around the world to find rare materials to create handcrafted and unique pieces. Each piece is recognizable by its impeccable finishes and unique design, all captivated by a formidable team of art companions. The polishers, debtors, stonecutters, assemblers and installers follow the best training to always bring the necessary excellence to the realization of each project.
FOCUS ON THE PROFESSIONS THAT MAKE UP OUR BEAUTIFUL, COMMITTED & RESPECTFUL TEAM, ALWAYS AVAILABLE TO ACCOMPANY YOU.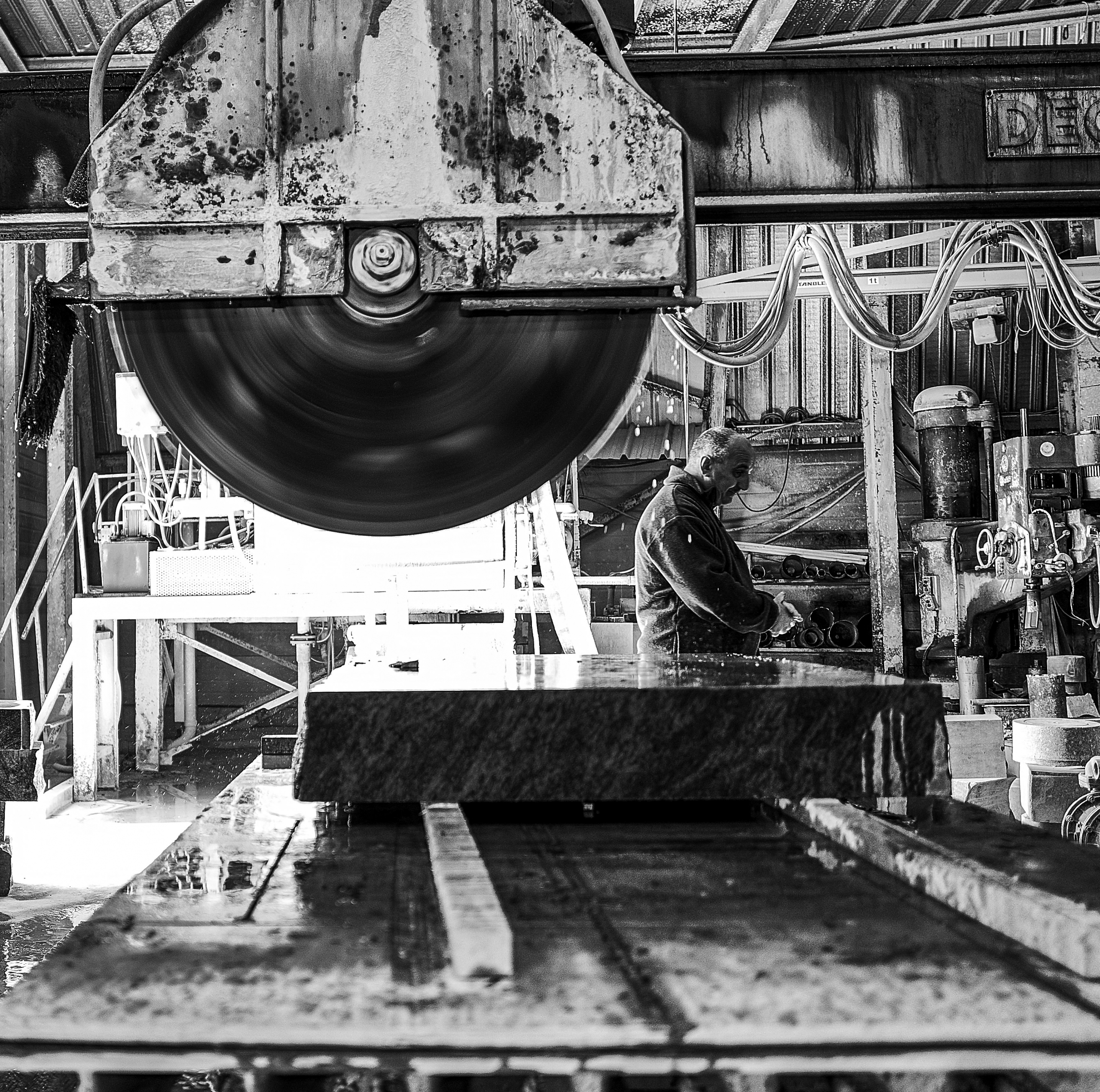 STONECUTTER
The stonecutter's mission is to cut the stone (marble, granite …) from plans prepared in advance by the site manager. He generally uses automatic machines, although some work requires manual cutting from time to time. First link in the manufacturing chain, his precision and know-how are essential to the realization of the pieces.
STONEPOLISHER
The stonepolisher enhances the stone by giving it brilliance and shine. As a finishing profession, it finalizes the polish of the piece and gives it its final aspect. He works on marble and granite generally using automatic machines, although some work requires manual polishing. The job of polisher requires a lot of meticulousness and rigor in the work, he must have a sense of detail. Each work is different, both by the stone used (granite, marble) and by the colors and shapes.
STONEINSTALLER
The stoneinstaller moves the finished blocks to the site. He is responsible for their installation: stairs, work surfaces, credenza, floors… He has excellent adaptability qualities, he can adjust the elements if necessary directly on site. The last link in the manufacturing chain, he is careful and rigorous. It requires excellent knowledge of stone and is able to inform the customer (installation, maintenance…).
WE INTERVIEWED DOMINIQUE, A MARBLE MASON IN THE SANSONE WORKSHOPS FOR MORE THAN 20 YEARS, IN ORDER TO LEARN MORE ABOUT HER TRADE.
What led you to do this job?
"It was my father who brought me to this trade, it is thanks to him that I was hired in a marble workshop at the age of 22. For seven years, I learned to work with marble, granite and stone. I then joined the Sansone company in 1998 where I was able to share my know-how and perfect my knowledge."
What do you find interesting in this job?
"I love working with stone (granite, marble…). I have a particular penchant for polishing, a task in which I feel very comfortable. Over the years, I have become versatile and thanks to my experience, I am now able to cut with a saw, cut with a hammer and a brichot, sand with a grinder or polish with a hose.
I am totally versatile in the company. I know 90% of the granites and almost as much of the marbles and I can work on all the machines: cutters, polishing machines, diamond core drill, digital lathe… What satisfies me the most is the final result as well as the customer's satisfaction at the handover. "