Piks Design and Ateliers Sansone
The new Pablo & Valentina tea-room in Lille opened in January 2017; it was fitted out by the Piks Design agency with whom Ateliers Sansone has already collaborated for the creation of the furniture items in the Essonna collection.
The stylish yet laid back design ethic of this tea-room brings together a number of noble materials such as marble with and the emerald green walls, the wood and cement floor tiles and its equally designer and vintage furniture and light fittings.
Ateliers Sansone was called in to bring touches of marble to various strategic design elements. On the wall where the items on sale are displayed (jams, honey, tea, wine, etc.), the display shelves are backed with White Carrara marble.
This "open-book" marble clad wall is made from a single block that has been cut to fit. The pieces have been rearranged as they were in the original block, allowing its natural veining to remain clearly visible.
The shop counter where pastries and cakes are displayed has been transformed by its association with another work surface in white Carrara marble. This natural stone is perfect from an aesthetic point of view whilst also being easy to clean. An opening in the marble has also been cut to receive a fitted sink.
To contrast with all of this white a large marble work surface in black Spanish Nero Marquina marble has been fitted against the window frames that open onto the street facing the Treille Church. This installation provides a nice long perspective, from the tea-room's entrance to the rear wall.
These two marbles, black and white, have a smooth mat finish with rounded edges.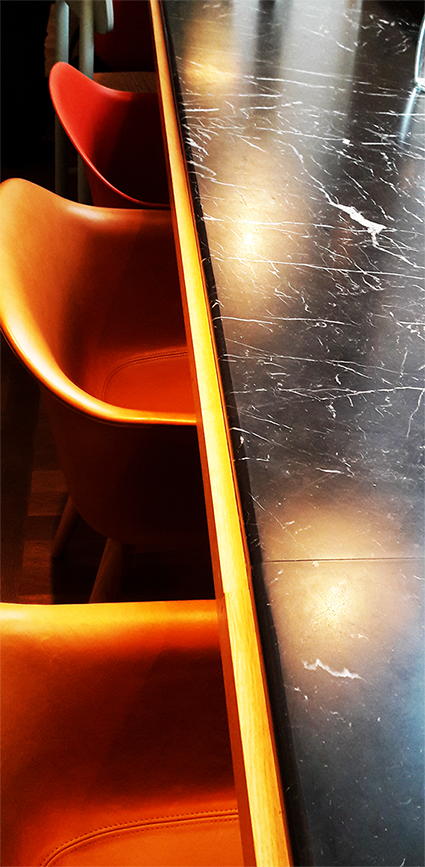 Fresh home-made produce…
This is an ideal place to enjoy fruit or chocolate caramel tarts, ginger bread with orange, pastries or cookies… or drink seasonal fruit juices and fresh smoothies.  At lunch one can try a home-made soup, or try cold-cuts, cheese or salmon served on white Carrara marble presentation boards, also supplied by Ateliers Sansone.
A fetching, quality and appetising place to indulge.
17, rue Bartholomé Masurel – Lille
Open Tuesday, Wednesday from midday to 7:30pm, and Thursday to Saturday from midday to 9pm