A breath of fresh air is blowing over the Ateliers Sansone! To celebrate the beginning of this new year, we present three new products, chic and original. Discover creations that reflect quality work, combining modernity and tradition. They will bring a unique decorative touch to your interior.
After the creation of two collections of designer furniture combining 2 materials: metal and marble, the Ateliers Sansone team decided to deploy this combination in order to offer you design decorative objects that fit perfectly into your interior.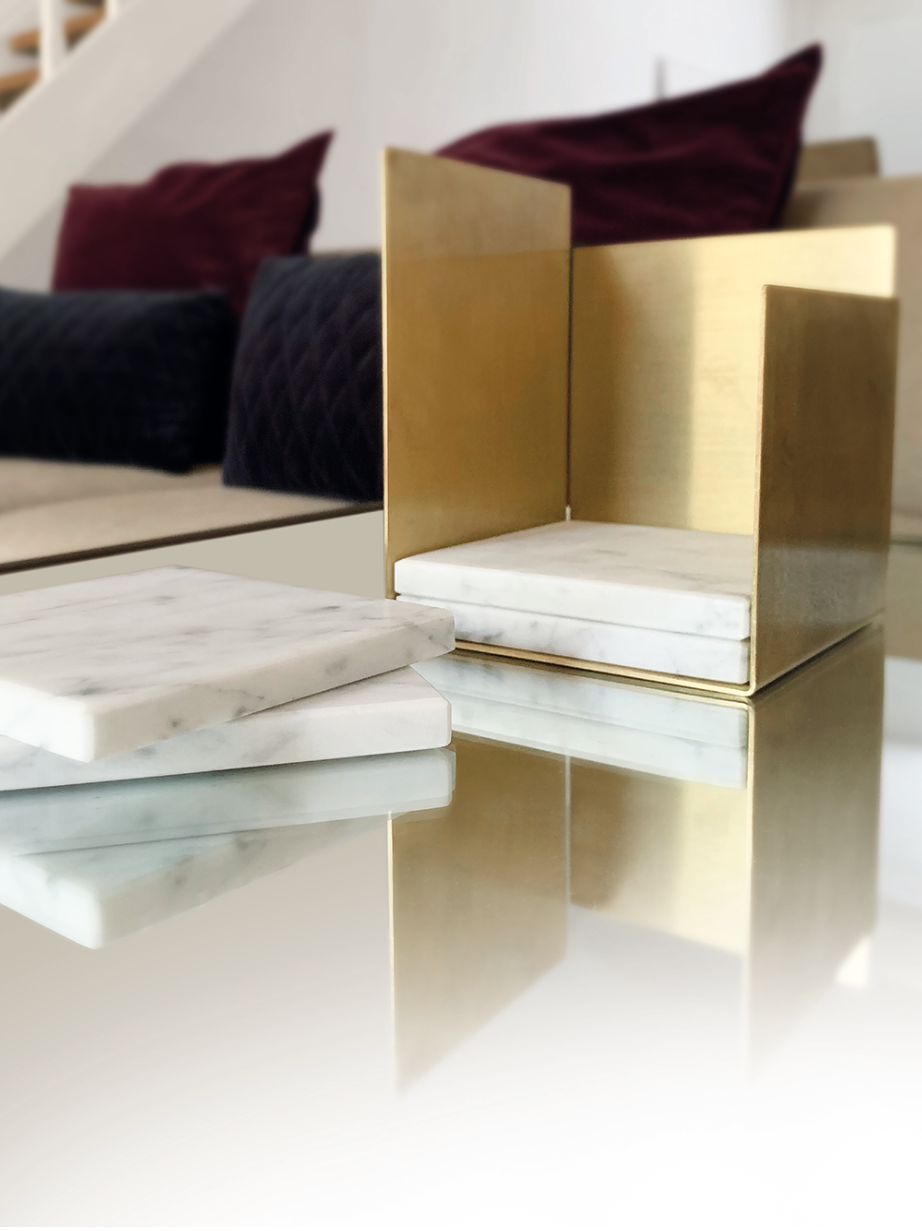 Bookend
The Bookend is made of one cube in White Carrara Marble, placed on a metal structure available in three colours: Gold, Black or Forest Green. Thanks to them, your books, large or small, will be kept on a shelf, a desk and will bring a decorative touch to your bookshelf.
Each slice of White Carrara Marble is unique, so the natural colour and patterns of the marble make each composition also unique. These marble bookends have been cut in a traditional way, so their size can vary from one to another. Their natural lines make them a perfect design object to offer, or to offer to yourself.
Coasters
True decorative objects thanks to their metal support, Carrara White Marble Coasters protect and preserve a table from potential stains with chic.
This set is composed of four coasters in White Carrara Marble and a metallic structure available in three colours: Gold, Black or Forest Green.
Simply placed on a table to add a decorative touch, they bring a timeless touch more than appreciable. The veins of the marble vary from one slice to another, each coaster is unique and allows a composition of four original pieces.
Storage tray
A key piece in an interior, the Ateliers Sansone's team has created a storage tray empty pocket in Carrara White Marble. Characteristic of this new collection of designer objects, find the metal support available in three colours: Gold, black or Forest Green.
This marble storage tray can also be used as a decorative object. Its sober design and noble material make it a small container that will perfectly hold your personal belongings.
The veins of this marble make it a unique object that provides to the living room, the hall, an elegant touch that patches itself along the years. The storage trays are made in our workshop in Mouvaux in the North of France.
Play on colours & materials with these new products full of charm!